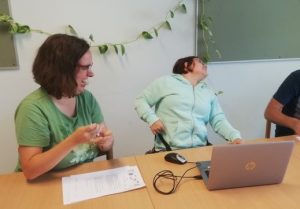 The ICT Forum 2019 organized by KI-I will take place on July 9th and 10th at the Johannes Kepler University in Linz. The ICT Forum is a model example of an INCLUSIVE conference and unique in Austria.
In the context of accessibility, the ICT Forum offers information and exchange, especially between people with and without impairments from theory and practice. There will be people from science and development, people from care professions and pedagogical professions. The ICT Forum has thus long been a forum for ideas and innovation in the field of barrier-free ICT for people with disabilities.
On the second day of the event, Franziska Mitter (KI-I) and Cordula Edler (JKU) will jointly present the IPAR-UCD methodology developed as part of the Easy Reading project.
Further information on the ICT Forum can be found here: