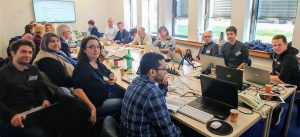 On 4 December, the interim review for the Easy Reading project took place at the European Commission in Luxembourg.
We presented the technical developments to the Commission and intensively discussed the remaining tasks in the project.
Our colleagues Franziska and Monika impressively demonstrated how well the Easy Reading System can be used to improve the accessibility of websites according to individual needs.
The reviewers were very satisfied with our work and gave us some good recommendations for the remaining project phase.